Encounters Gala and Weekend – April 1-5, 2020
Join us in celebrating Georgetown's Villa Le Balze with a weekend of special commemorative events.
Event Registration
Join the Georgetown University Alumni Community in Italy for an exclusive weekend in Florence culminating in an evening gala of elegant Tuscan fare, Italian wine, and access to private art galleries at Chiara Ferragamo's family property, Palazzo Corsini, on the banks of the Arno.
The gala will feature remarks by Dr. Tom Banchoff, Vice President for Global Engagement, and a silent and live auction during which participants will be able to bid on a variety of exclusive opportunities. All proceeds contribute to the legacy of Georgetown's Villa Le Balze.
Other weekend events include:
Guided tours at Villa Le Balze with brunch or an aperitivo
Private guided visits of the Ferragamo Family Museum
Florence culinary tours and Tuscan cooking classes
Exclusive round of golf at the Ferragamo golf course, Castiglione del Bosco
Art lectures and gallery viewings
Wine country tour and tasting
Encounters Weekend Events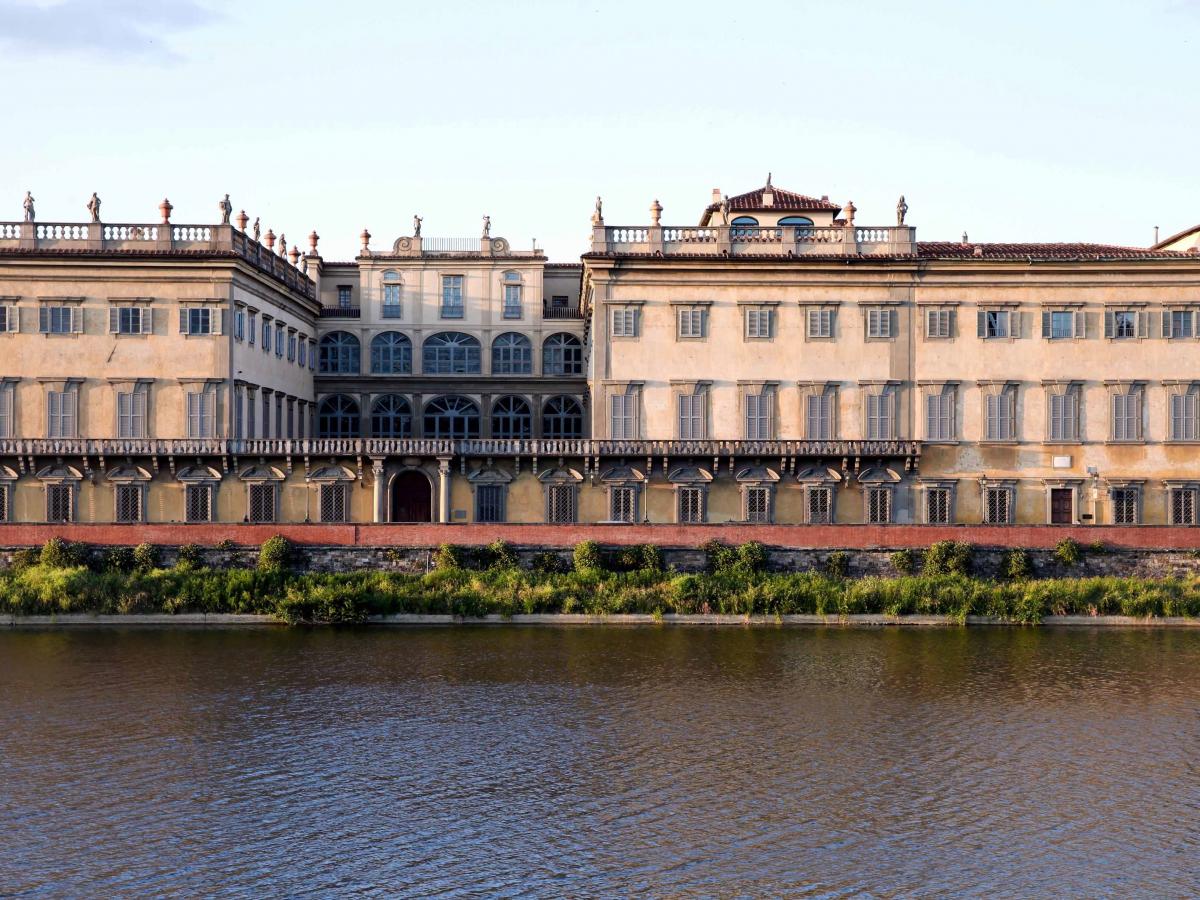 Encounters Gala at Palazzo Corsini
Join us for an evening to remember at Palazzo Corsini on the banks of the Arno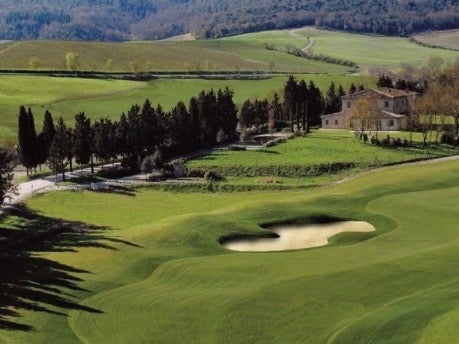 Castiglion del Bosco Golf Course
Experience a round of golf at the only private golf course in Italy!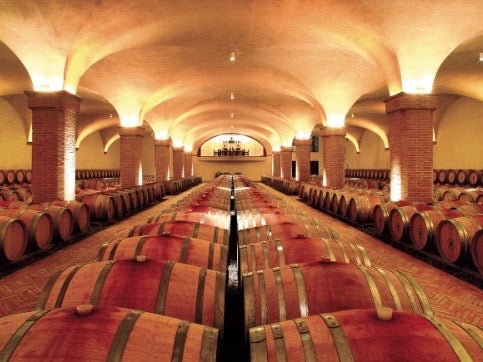 Tuscan Wine Tasting
Travel to Castiglion del Bosco cellars for a tasting and farm-to-table luncheon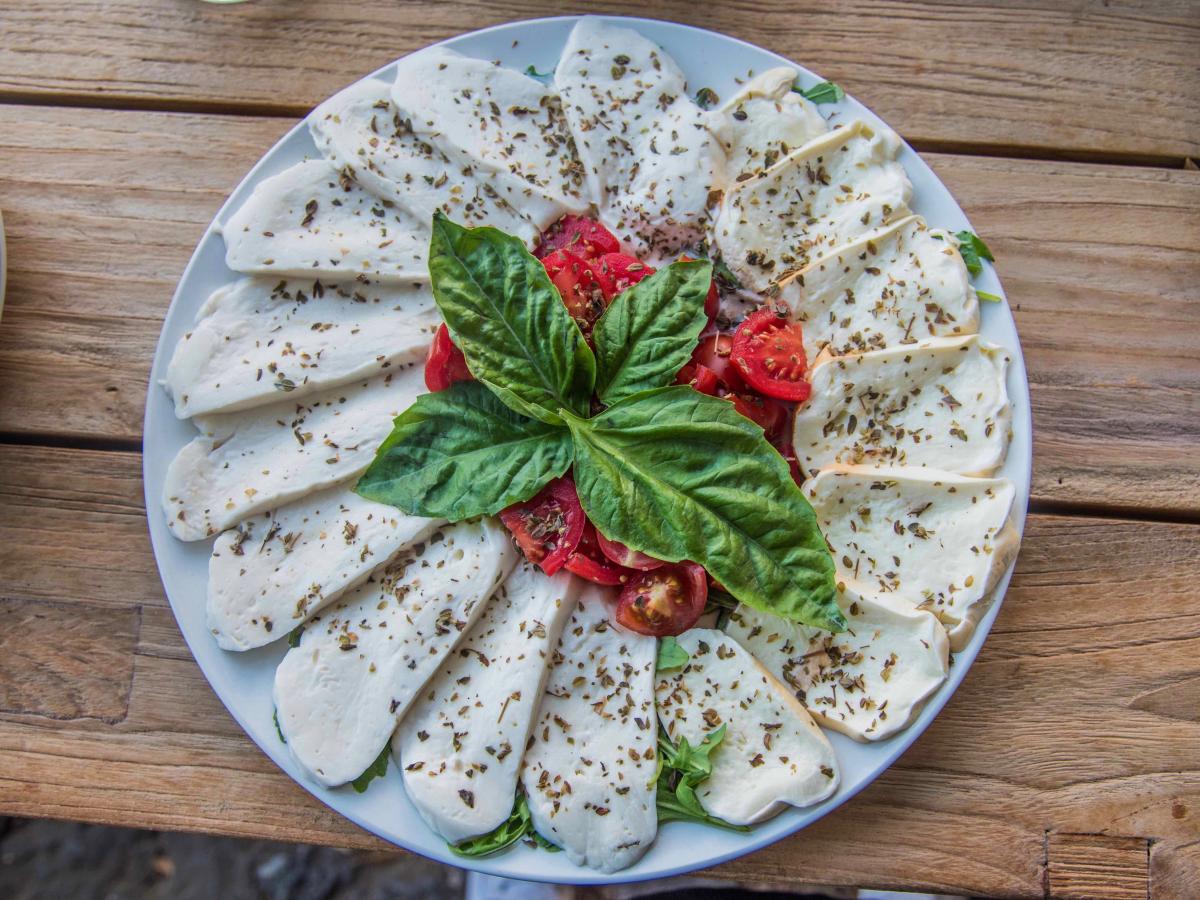 Guided Florentine Food Tour
Experience four hours of Tuscan cuisine with a tour through Florence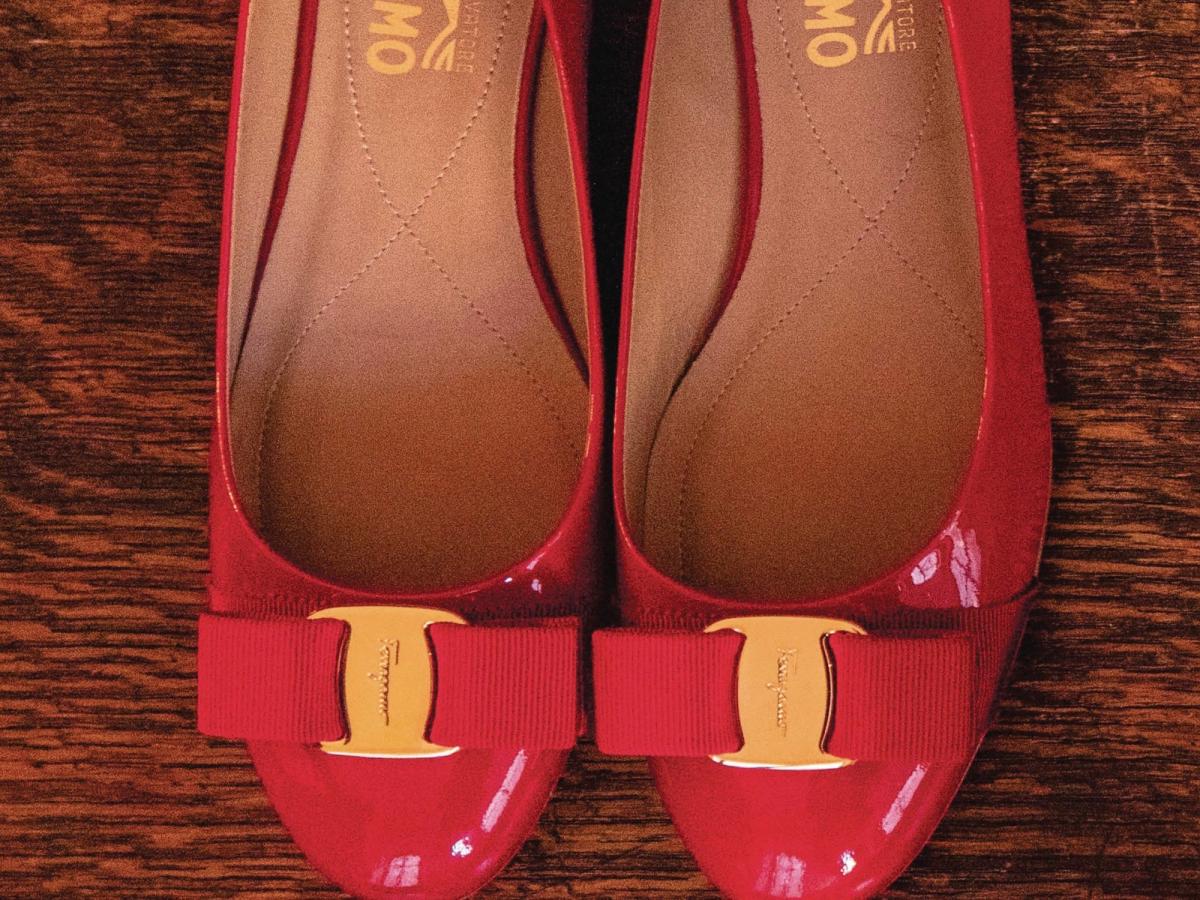 Exclusive Access to Art Collections
Visit the Ferragamo family museum, offered exclusively to Georgetown guests of the Encounters Florence Weekend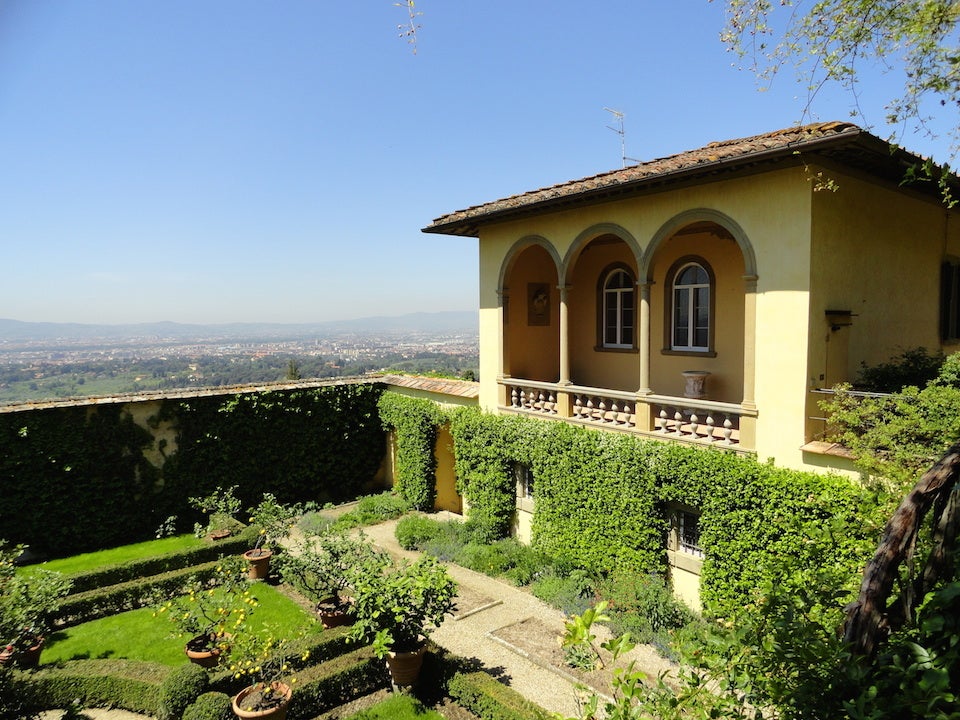 Tour and Reception at the Villa Le Balze
Receive a guided tour of the beautiful and historic Villa Le Balze and enjoy a cocktail reception in its spectacular gardens
Hotels
Information regarding hotel blocks will be available soon!
Email villainfo@georgetown.edu with any inquiries regarding this event.
Alumni Stories and Photo Gallery
Spring 1981
"I had the great pleasure of being in the first Georgetown class to spend a semester at Villa Le Balze, in the Spring of 1981. Our group of just 11 students was accompanied by Royden B. Davis, SJ, who was Dean of Georgetown College at the time. Georgetown had developed an excellent academic program for us, and also had arranged wonderful contacts for us in Florence along with private visits to I Tatti, the Palazzo Corsini, etc. We met a lot of Italian students in Florence, and had one or two great parties on Saturday nights at the Villa. Among my favorite memories are spending time with Dino Rigacci, who had worked at the Villa for Charles Strong, had stayed on during occupations by both German and British officers during the war, and then for those many years that the Villa was unoccupied. Dino was happy do imitations of the German officers, and to point out shrapnel damage in the exterior walls facing the city. A gentleman named Memo was the gardener at the time, and he liked to show us the big, fat rabbits that he kept in hutches down below. Unfortunately for the rabbits, they often appeared on our dinner table! We worked hard on our studies, but otherwise had a leisurely existence. We had just a few household responsibilities; my favorite was siphoning the Chianti from the huge glass demijohns in which it was delivered to the Villa into the individual bottles for consumption. I recall that we poured a thin layer of vegetable oil on top of the wine to keep each bottle fresh and then put a cork in it. It was a great semester and I'll always remember it!"
– Mark Vermylen
"Nearly 40 years since our group of 11 spent that first semester at the villa in 1981, that experience remains one of the best of my life and one I recall with great fondness. Studying the Italian Renaissance in the very heart of it was a surreal experience. It was amazing to learn about some of the most important art in the world as we stood in front of those very masterpieces. The villa also provided a beautiful and stimulating learning environment. I spent a lot of time reading books by great American, English and Italian writers. Idyllic is the word that always comes to mind when I think of my time in Florence."
– Ana Gloria Rivas-Vázquez
Spring 1990
"Participating in the living-learning program at the Villa was a formative experience for me. It kindled my curiosity about the enlightenment through art, history and culture; challenged me to move outside my comfort zone with weekend travel; and inspired my life long sense of adventure."
– Carolyn Trabuco
Fall 2011
"The housekeeping and kitchen staff of the Villa Le Balze made us feel like family, and they felt very much a part of our "VLB family" during my semester there. Sandra, Eleonora, Roberta, and Jadwiga made sure that the VLB had all the trappings of home—albeit a luxurious Italian home—while we were in Fiesole. Seeing them is always the highlight of the few return visits to the Villa that I have been able to make. My semester at the Villa Le Balze was the unexpected beginning of a serious interest in my Italian heritage, Italian culture, and the Italian language. After returning to the Hilltop, I added a minor in Italian to my existing major and minor, which served as great preparation for the unexpected five years that I would spend living in Rome while studying to become a Catholic priest."
– Ryan Muldoon
Summer 2013
"During the inaugural Machiavelli Seminar, we had the chance to hear a variety of former policymakers ranging from Tony Blair's Chief of Staff to the former Chief of Staff for the Soviet Union's Strategic Nuclear Forces share their views and perspectives on Machiavelli and global issues at the Villa. Though only a week, this event exemplified how different and special the Georgetown experience truly is."
– Bret Perry
Spring 2016
"Studying at the villa was one of my favorite memories from my time at Georgetown. I loved learning about Italian culture, speaking the language and of course, eating the amazing food at the villa. Our chefs were incredibly talented. My favorite memory was our nightly dinners because our whole group was truly a family."
– Jaclyn Digregorio
Spring 2018
"One of my favorite memories from my semester abroad at the Villa was when we were stranded at the Villa due to an uncharacteristic March snow storm. The gardens and grounds were blanketed in white and the Villa felt cozy and warm. It was so picturesque and beautiful and something that I will never forget."
– Jacqueline Laret
Fall 2018
"My semester at the Villa was, without a doubt, the best experience of my four years at Georgetown. The Villa allowed me to make lasting relationships with the incredible staff, my wonderful Italian host mom, the American and Italian professors who would guide us through both dense academic material and tours of the Italian countryside, and the 16 other students with whom I lived and travelled for nearly four months. The Villa served as a jumping-off point that allowed me to immerse myself in Italian culture and explore Renaissance art museums in Florence, an ancient Christian cemetery beneath the Vatican, and even the small town in Calabria where my grandparents grew up. My experience at the Villa inspired me to write an undergraduate thesis on the rise of Euroscepticism and to pursue fluency in the Italian language."
– Elizabeth McKee
"When I think about my time at the Villa, the daily lunches with all of our professors and staff immediately come to mind. I loved that we all came together every day to enjoy a meal in each other's company. It was a unique opportunity to get to know each other better and to build the sense of community within our group. My time at the Villa really gave me a place where I felt like I belonged at Georgetown, and that's something I brought back to campus and will carry with me beyond the Hilltop."
– Emily Greffenius
Summer 2019
"I attended the Machiavelli Seminar at the Villa this summer and it was definitely the highlight of my Georgetown experience so far. Because I am on an accelerated 3-year graduation plan, I was worried I would not be able to study abroad during my time at Georgetown, but the Machiavelli program at the Villa allowed me to take an intensive government course, meet a wonderful group of people, and explore the city of Florence in just two weeks over the summer. Staying at the Villa allowed me to share meals with and sightsee with my peers and professors, which a normal class at Georgetown would not typically do. My favorite memory during my time at the Villa was when our class went to the walls of Lucca and wrote bikes on it with our professors after studying Machiavelli's analysis of the walls as military defense in his book "The Art of War."
– Lily Gong
"I found my experience as a resident in the Villa Le Balze to be incredibly transformative because I walked away feeling more in touch with my global community and all that it has to offer in terms of its history and art. Being able to study the bulging veins in the arms of David from Michelangelo's "Statue of David" or the gust of wind blowing through the hair of Venus from Botticelli's "Birth is Venus" created a sense of wonder and awe than no digital image could create. I gladly thank the Florentine natives who made my peers and me feel at home in their country while simultaneously cultivating a memorable, positive experience for all of us! My favorite memory from the entire three week trip was getting to see Pope Francis in person while visiting The Vatican. As a practicing Catholic, this was a once-in-a-lifetime opportunity, and words cannot describe the overwhelming joy that I felt that day! This was truly the highlight of my experience, and I am extremely grateful for my two professors, Norberto and Ivan, for facilitating this excursion and for helping me to fulfill one of my biggest dreams."
– Kaitlyn Reynolds