History of the Villa

At first glance, Georgetown's Villa Le Balze is merely another attractive house in the Tuscan vernacular style, adorned with well-proportioned gardens, and seemingly floating among Renaissance villas on a steep hillside overlooking Florence. However, behind the building, is the story of three men – gifted American philosopher Charles Augustus Strong, and English architects Cecil Pinsent and Geoffrey Scott – who came together to make a dream of a Villa in Tuscany a reality.
There are no official biographies of these men, and only now are they beginning to get the recognition they surely deserve. Their legacy is a place which resonates with the spirit of intellectual adventure and confidence that was the hallmark of the Anglo-American intelligentsia in Italy in the late 19th and early 20th centuries. The figures associated with the Villa and its owner read like an international biographical dictionary of philosophy, art and literature, and, like much of the architecture of this English-speaking colony in Tuscany, Villa Le Balze is a statement of cultured and visionary taste.
The Site
Villa le Balze, or "The Cliffs" in Italian clings to the side of a steep hill at the southern edge of the ancient settlement of Fiesole and overlooks the broad valley of the River Arno. Fiesole is immensely rich in architectural heritage with Etruscan ruins, a Roman amphitheater and temple, an 11th-century cathedral, and numerous Renaissance buildings.
To the east is the Villa Medici, the summer retreat of Cosimo the Elder starting in 1458, which was his first true Renaissance villa. The Villa's neighbor to the north is Villa San Girolamo. Used since the 14th century by various religious orders, it is adorned with the work of Michelozzo and Nigetti, has been visited by two popes, and was at one time the headquarters of the Society of Jesus and the home of the Father General (it also serves as the setting for Michael Ondaatje's Booker Prize winning The English Patient). Strong himself even stayed there for a short time in 1911 during which time he was moved by the incredible views of the city below and took a liking for the smallholding on the ground below and bought it on which to build a permanent residence. top
The Philosopher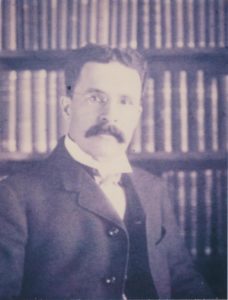 Charles Augustus Strong was born in 1862, the son of Dr. Augustus Hopkins Strong, president of the Baptist Theological Seminary at Rochester and author of Systemic Theology, a text that remained in print for more than a century. His father's position in the church led to a friendship with John D. Rockefeller, whose daughter Elizabeth would later marry Strong. The young Strong went to The University of Rochester, then to Hamburg to learn German, and then to a Westphalian gymnasium. He arrived at Harvard in 1885 where he studied philosophy, graduating summa cum laude. Strong's friendship with philosopher George Santayana began at Harvard with an agreement to share Strong's $1,000 fellowship for advanced study in Germany.
Strong accepted a professorship in psychology at Columbia University in 1903 with the freedom to teach there or research abroad. Elizabeth died in November 1906, leaving Strong to care for their nine-year-old daughter Margaret. After his wife's burial at the Rockefeller Cemetery in Tarrytown, New York, Strong, against the wishes of John D. Rockefeller, returned to Europe, settling there permanently with his daughter. In 1912, he engaged two English architects, Geoffrey Scott and Cecil Pinsent, to build Villa Le Balze in Fiesole, where he would lived until his death. In 1915, Strong developed a tumor on his spine that left him able to walk only with great difficulty, and he spent the rest of his life in a wheelchair. After his wife's death, Strong seems to have devoted himself entirely to philosophy. He welcomed Santayana, his classmate from Harvard, and other American philosophers to the Villa. He also wrote six new books, and most of his extant letters are essentially long philosophical essays for his colleagues with virtually no reference to people, places, or events. Later, facing old age, his attention turned to where he might bequeath his wealth, and after various changes of mind, a number of philosophy fellowships were endowed in 1939.
On January 23, 1940, Strong died with only his house servant and chauffeur for comfort in the final hours. This noble, intelligent man, despite his wealth, suffered sadness and depression brought on by his own ill-health, the suffering of Elizabeth, bereavement and, perhaps, general loneliness.  top
The Visionaries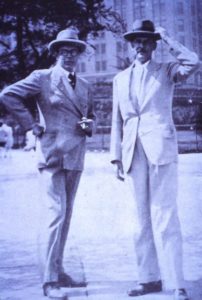 Cecil Pinsent was born in Montevideo in 1885 and did his architectural studies in England. After completing his education, he moved to Tuscany where, in 1907, the 21-year-old earned an invitation to make alterations and suggest additions to the Villa Gattaia, home of Strong's Harvard friend Charles Loeser, a skilled art connoisseur. The Loeser commission was followed by one from Bernard Berenson to make major alterations to the house and create formal gardens at Villa I Tatti.
Pinsent's work at Villa I Tatti between 1909 and 1914 was his first major garden project, but in it he was aided by another young Englishman, Geoffrey Scott, who had been working as Berenson's secretary-librarian since 1907. Scott was not trained as an architect, but he possessed a remarkable aesthetic understanding. Shortly after the completion of the Villa I Tatti commission, Scott and Pinsent formed an architectural partnership that serviced the needs of a circle of wealthy Americans, Englishmen, and Italians united by connections to literature and the arts. This partnership lasted into the 1920s, though Scott's practical involvement grew increasingly diminished as other well-chronicled commitments absorbed his time. In 1929, at the age of 46, Scott died of pneumonia in New York.
Pinsent's ability to create enchanting gardens from bare sites is also evident from his work at La Foce for Marchesa Iris Origo, almost entirely executed after Scott's death. By this time, Pinsent had deservedly acquired a reputation as one of the most accomplished English architects abroad, and the Villa Le Balze was well known among his client community as a splendidly well-engineered interpretation of Tuscan vernacular. His genuine enthusiasm for Italian gardens undoubtedly resulted in his becoming the most sought-after architect and garden designer of that milieu with commissions from royalty, aristocracy and the wealthy elite.
Save for a short spell in Italy in 1944-1945, Pinsent lived in England from 1939 on, moving to Switzerland in the late 1950s. Pinsent produced no significant architectural work during this time, in contrast with the spirit imagination, and success of his earlier days. Recently, the Villa Le Balze has begun to receive the attention of scholars for its remarkable manipulation of materials, spaces and forms within a neo-Renaissance style.
Upon Strong's death, the house and garden passed to his daughter Margaret, but it remained empty for many years. During World War II, it was occupied, first as the head office for the Bank of Tuscany, and then later was commandeered as a German military headquarters. This caused serious damage to the Villa, not through willful destruction by German troops, (as happened at neighboring San Girolamo), but through Allied offensive action.
In August 1944, advancing forces believed German troops to be defending the Villa on the night of their attack on southern slopes of Fiesole, and light artillery was brought to bear. Artillery shells destroyed a large part of the Villino roof, a nearby garden wall, and on the main house caused major damage to the south and east loggias. Heavy machine-gun fire caused damage to walls and trees, with some of this recorded in the disfigured bark and trunks. Some time later, German mortar fire from positions on the other side of Fiesole caused further damage. One shell even crashed through the roof and upper floor and lodged itself in the library, but, miraculously, it did not explode.  top
The Villa's Enduring Spirit
After the war, Margaret, anxious that her father's house should not fall into disrepair, set in place a skeleton staff which would remain for 35 years until, in December of 1979, she donated the Villa, gardens, and all remaining contents to Georgetown University to become the Charles Augustus Strong Center for scholarship. Some timely preservation has begun, and parts of the property are carefully restored under the watchful eye of skilled architects and garden managers. Through their work, the subtle complexion of this exhilarating composition is being revealed as it must have appeared sixty years ago. This process is constant as Georgetown University is committed to ensuring a continuing program of maintenance and renewal at the Villa.
To the student of cultural and intellectual history, Le Balze tells of the spirit of its owner, Charles Augustus Strong, and resonates with the memory of a vibrant past: of the social life and aspirations of a wealthy Anglo-American intelligentsia in pre-war Tuscany. Pinsent's creation is one of the finest of its genre, a testament to the endeavors of a gifted and conscientious designer working together with a cultivated, tasteful client for a period of over 15 years. Georgetown University is proud of this small, but truly international, treasure.  top