Make a Gift
Through your generosity, you help to ensure that future generations of Hoyas have access to unique and memorable educational opportunities at Villa Le Balze.
Why give to Villa Le Balze?
For major gifts and recognition please contact Erin DeLoach, Senior Director of Development, Georgetown College or Vanessa Meyers, Director of Global Services.
Giving to the Villa Le Balze legacy will make a lasting impact on the lives of students, faculty, alumni, and many others who use the Villa as a space for transformative educational and scholarly activities.
The Villa seeks financial assistance to advance its vision of being Georgetown's premier global hub for learning and scholarship. This vision includes supporting opportunities for graduate and postgraduate scholarship, expanding undergraduate academic programs, hosting more conferences and seminars, and upgrading facilities and infrastructure to ensure that the Villa can connect its students, scholars, and guests to Main Campus and to the world.
In order for us to offer these and more opportunities to the Georgetown community, including our alumni, we invite you to become a part of the Villa Le Balze legacy. We want to partner with you to preserve Villa Le Balze and its ability to enrich the lives of Hoyas for years to come.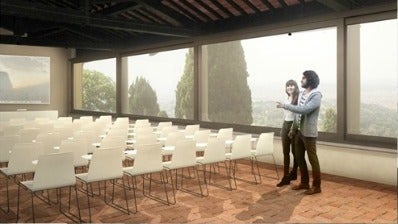 Loggia Enclosure Project
Help us enclose the Loggia in order to have more space for programming and events and to ensure the Villa's long term financial viability.
Funding goal: $1,200,000
The breathtaking views from the Loggia make it an ideal space for functions, lectures, and alumni events. Enclosing the loggia in glass will make this showcase space accessible year-round and give us the ability to install permanent multimedia technology. You can become a large part of the Villa Le Balze Legacy by donating in full for this project that would include your name recognition in the Loggia's title.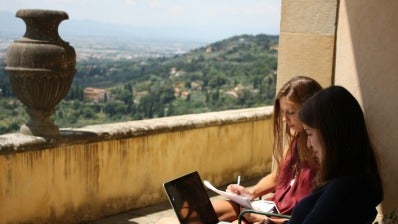 Villa Le Balze Endowed Fund
The Villa's seven formal gardens and multiple buildings require vigilant upkeep, maintenance and care to preserve them for generations to come. Help us preserve and maintain the historic buildings and grounds.
Funding goal: $8,000,000
This endowment was established in 2017 to help the Villa Le Balze Legacy. The endowment interest funds will be used on projects such as statue restoration, new furniture, room renovations, and other necessary projects on the property.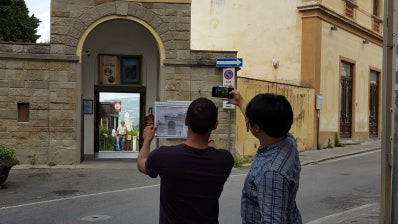 Villa's Annual Fund
The Villa's Annual Fund supports a variety of needs that change annually, such as student scholarships, academic activities costs, guest speakers, and many other academic initiatives.
More than 2,100 Georgetown students have studied at Villa Le Balze since 1980. And through its commitment to academic excellence, holistic student learning and development, and faculty and alumni engagement – the Villa supports Georgetown's mission and identity as a student-centered research university.
---
Please remember that your gift to Villa Le Balze is tax-deductible and your employer may participate in a matching gifts program.