Villa Le Balze's Dynamic Ability to Adapt
Posted in News Story
January 28, 2021 – Although the COVID-19 pandemic has been incredibly difficult and trying, Villa Le Balze's dynamic ability to adapt has allowed the staff members and instructors to impact and benefit the Georgetown community in many new ways.
Virtual Villa Le Balze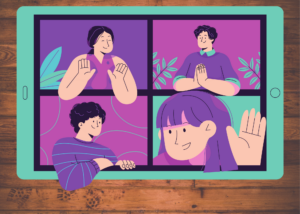 The first of these new adaptations was the creation of Virtual Villa Le Balze – a series of free virtual events focused on Italy and Italian studies. The series has included a variety of different types of events, such as academic lectures, panel discussions, and cultural experiences. These events aim to engage current students, alumni, and the broader Georgetown community in activities that help foster community and togetherness during this difficult pandemic. Fulvio Orsitto, Director of Villa Le Balze, remarked, "Although Villa Le Balze is currently closed – and neither students nor alumni can experience its living and learning community – this series of virtual events brings the Villa's vibrant cultural and academic life to the online community of Villa friends."
During the fall 2020 semester the Villa held one panel discussion, one lecture, and two live cooking demonstrations. Unfortunately, a scheduled live virtual walking tour of Florence had to be postponed due to COVID-19 restrictions in Italy. With the success of these events, the series has been extended through the spring semester with all new events, including a new date for the highly anticipated walking tour.
Virtual Villa Le Balze Calendar
Remote Courses
The spring 2021 semester officially began earlier this week with some interesting additions to Georgetown's course offerings. While COVID-19 has been incredibly disruptive to courses, it has also offered Georgetown's undergraduate students the opportunity to enroll in Villa courses that are usually only available to students studying abroad at Villa Le Balze. Last fall, when the university had to make the difficult decision to suspend spring 2021 study abroad programs, instructors at Villa Le Balze were able to adapt their courses for a virtual academic environment.
"The Villa has offered undergraduate study abroad programs continuously for four decades," commented Gregory Spear, Assistant Director of Global Living and Learning Programs in the Office of Global Education. "And while we are disappointed that the conditions don't allow us to continue that tradition in-person, we're excited for new opportunities to connect to the Georgetown community and to share the Villa's strengths with Georgetown students around the world."
The Villa's instructors worked with main campus departments to ensure that the offered courses provided additional course variety and breadth. The four courses that are being offered virtually are scheduled according to the local time in Italy in order to better serve students who are studying virtually from time zones outside the U.S. "We're very pleased to see a large number of students from both Main Campus and the GU-Qatar campus enrolling in virtual VLB courses this spring," continued Mr. Spear. "Additionally, several courses have waitlists."